Lecture Digital Media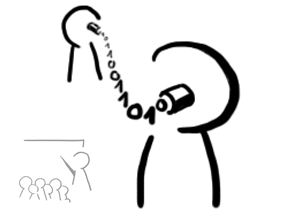 Lecturer:
Prof. Heinrich Hussmann
Tutorials:
Nađa Terzimehić
und
Dennis Dietz
Contact us only via
dm(at)medien.ifi.lmu.de
Hours per week:
3 (Lecture) + 2 (Tutorial)
ECTS credits:
6
Modul:
P2: Digitale Medien (für Bachelor-Hauptfach Medieninformatik)
P1.3 und P1.4 (bzw. P2 nach neuer PStO 2021): Digitale Medien (für Bachelor-Nebenfach Medieninformatik)
News
17.10.2021

The lecture will take place live in the lecture hall, according to current information on regulations. Attendance in the lecture hall will only be allowed for participants who have proof of vaccination, recovery from Covid or a current negative test result. All contents of the lecture will also be made available online - details to be announced later.
Registration
To gain access to the online materials, please register in Uni2Work with your Campus ID. The registration key for Moodle will be announced in Uni2Work.
Dates and Locations
Lecture:
Date and time: Friday 10 a.m. - 1 p.m.
Location: Lecture Hall C 106, Luisenstraße 37
Tutorial:
Tutorials will start on 25 October, currently four presence groups are planned. Additional online tutorials will be offered (via Zoom). Details of this plan are subject to later change.

Dates (Subject to Change):
Monday 12 - 2 p.m.
Monday 2 - 4 p.m.
Wednesday 10 - 12 a.m.
Wednesday 12 - 2 p.m.

Location: Luna Lab (Amalienstraße 17, A 001)
Exam
Currently an examination in presence is planned for February, details to be announced later.
Contents
The lecture gives an introductory overview on the most important basic knowledge for the realization of digital media, covering technical topics as well as topics from perceptual psychology. There are no prerequisites in terms of computer science knowledge beyond what is taught in parallel courses. The lecture touches a quite broad spectrum of different disciplines (mathematics, physics, telecommunications, medicine). The lecture is the basis for the lecture "Media Technology" which goes into deeper detail of technology and design aspects. It also provides the basis for more specialized courses on multimedia-related topics.
The lecture course is suitable for:
Students of Media Informatics and "Art and Multimedia" (Bachelor)
Students of Media Informatics (Bachelor Minor)
The lecture course is not suitable as "Vertiefendes Thema" for Informatics students.
Course Material
Materials for the course will be provided online via Moodle. Materials comprise e.g. slides and video recordings.
Rules for Online Teaching
Still some teaching happens currently online. In this situation, we would like to explicitly point out some rules:
In live meetings, we ask you to responsibly deal with audio (off by default) and bandwidth (video as needed).
Recording or redirecting streams by participants is not allowed.
Distributing content (video, audio, images, PDFs, etc.) in other channels than those foreseen by the author is not allowed.
LMU Munich is a discrimination and harassment-free educational institution for everyone, regardless of gender, gender identity and expression, age, sexual orientation, disability, physical appearance, body size, race, ethnicity, denomination or technology choices. We do not tolerate harassment of our students or staff in any form, neither professional nor personal. Any form of discrimination or sexual harassment, incl. images, is not appropriate for any lecture, seminar, workshop or other forms of meetings and collaborations. Students or staff violating these rules may be dismissed from the sessions.