Lecture Digital Media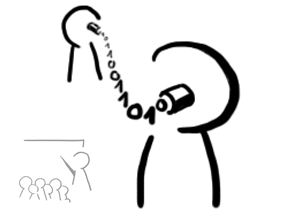 Lecturer:
Prof. Hußmann
Tutorials:
Dr. Alexander De Luca
Hours per week:
3 (Lecture) + 2 (Tutorial)
ECTS credits:
6
Modul:
P8: Digitale Medien (für Bachelor Medieninformatik)
News
06.03.2014:

Die Informationen zur Nachholklausur sind nun online.

08.02.2014:

Hier nun eine besonders nette Lösung zu Übungsblatt 10, Aufgabe 4 von Miriam Metz. Man beachte vor allem den Spiegel.

30.10.2013:

Die Informationen zur Klausur sind nun online.

10.10.2013:

Die erste Vorlesung findet am 18. Oktober statt. Am gleichen Tag beginnt auch der Übungsbetrieb. In der ersten Woche (18.10.-24.10.) kann irgendeine Übung besucht werden. Danach sollte die Übung besucht werden, für die man angemeldet ist. Die Anmeldung zu den Übungsgruppen ist ab 24. Oktober 10 Uhr unter UniWorX freigeschaltet.

21.09.2013:

Die Anmeldung zur Vorlesung ist nun offen.
Dates and Locations
Lecture:
Friday 10 ct - 13, Schellingstr. 3, 001
Tutorial:
Monday 08-10 Uhr
Monday 10-12 Uhr
Monday 12-14 Uhr
Monday 14-16 Uhr
Wednesday 8-10 Uhr
Wednesday 10-12 Uhr
Wednesday 12-14 Uhr
Thursday 8-10 Uhr
Thursday 10-12 Uhr
Friday 14-16 Uhr
Friday 16-18 Uhr
Friday 18-20 Uhr
alle in Amalienstr. 17, A 001 (CIP-Pool)
Contents
Die Vorlesung gibt eine einführende Übersicht über die wichtigsten technischen und wahrnehmungsphysiologischen Grundlagen zur Realisierung digitaler Medien. Es werden keinerlei Programmierkenntnisse und nur elementare Informatikkenntnisse vorausgesetzt. Dagegen wird ein relativ breites Themenspektrum verschiedenster Disziplinen (Mathematik, Physik, Nachrichtentechnik, Medizin) angesprochen. Die Vorlesung bildet die Basis fuer die stärker ins technische Detail gehende Lehrveranstaltung "Medientechnik" und stellt die Grundlagen für vertiefende Lehrangebote zu Multimedia-Themen bereit.
The lecture course is suitable for:
Students of Media Informatics (Bachelor)
Studierende Medieninformatik (Bachelor Nebenfach), insbesondere Kunst und Multimedia
Informatik (Bachelor Hauptfach) als vertiefendes Thema
Lecture
Podcast
Slides and podcast of lecture are available.
The podcast (in German) can be
subscribed
to using the links below.
Podcast mit iTunes abonnieren
Podcast mit anderer Software abonnieren
Tutorial
Die in der Vorlesung besprochenen Inhalte werden anhand von praktischen Anwendungen eingeübt. Die Beherrschung des praktischen Umgangs mit Kompressionsverfahren und Mediendokumentformaten soll erreicht werden.
| Blatt Nr. | Thema des Übungsblatts | Abgabedatum | Folien zur Übung | Materialien |
| --- | --- | --- | --- | --- |
| 1 | Zahlensysteme, ASCII | 01.11.2013 8:00 Uhr | Slides | - |
| 2 | Lauflängen-, Huffman- und Arithmetische Codierung | 08.11.2013 8:00 Uhr | Slides | - |
| 3 | LZW, Digitalisierung | 15.11.2013 8:00 Uhr | Slides | - |
| 4 | LZW-Decodierung, Speicherplatzbedarf | 22.11.2013 8:00 Uhr | Slides | - |
| 5 | HTML | 29.11.2013 8:00 Uhr | Slides | - |
| 6 | Pfadangaben, CSS | 06.12.2013 8:00 Uhr | Slides | Materialien |
| 7 | Signalverarbeitung, Audio | 13.12.2013 8:00 Uhr | Slides | Materialien |
| 8 | Hexadezimal, Wave | 20.12.2013 8:00 Uhr | Slides | Materialien |
| 9 | Bilddateien, Farbpaletten, Bitmap-Format | 10.01.2014 8:00 Uhr | Slides | Materialien |
| 10 | Ortsfrequenz, Videokompression, Chroma-Subsampling, Bildbearbeitung | 17.01.2014 8:00 Uhr | Slides | Materialien |
| 11 | JavaScript und DOM | 24.01.2014 8:00 Uhr | Slides | Materialien |
| 12 | XML und XSD | 31.01.2014 8:00 Uhr | Slides | Materialien |
| 13 | SVG | 07.02.2014 8:00 Uhr | Slides | |
| | Probeklausur | | | |
Hinweise zur Klausur
Date: Friday, February 21, 2014, 15:00 - 17:00
Deadline for registration: Wednesday, February 12, 2014, 10:00 am
The registration is possible via Uniworx
Melden Sie sich nur zur Klausur an, wenn Sie auch wirklich teilnehmen werden! Sollten Sie sich nach Ihrer Anmeldung noch entscheiden, doch nicht teilzunehmen, melden Sie sich bitte wieder via Uniworx ab.
Rooms (lastname)

A-Goe/Gö: Theresienstr. 39, C 123
Gr-L: Theresienstr. 39, B 051
M-Schr: Theresienstr. 39, B 052
Schu-Z: Theresienstr. 39, B 139

Attention:

Print all lecture slides and bring them with you.
Bring a calculator with you.
Mobile phones, laptops and any other communication technologies are strictly forbidden. Leave them at home.
student id card required
Real (!!) identification document required (e.g. ID card or passport)
Hinweise zur Nachholklausur
Date: Wednesday, April 2, 2014, 14:00 - 16:00
Deadline for registration: Friday, March 14, 2014, 12:00 am
The registration is possible via Uniworx
Melden Sie sich nur zur Klausur an, wenn Sie auch wirklich teilnehmen werden! Sollten Sie sich nach Ihrer Anmeldung noch entscheiden, doch nicht teilzunehmen, melden Sie sich bitte wieder via Uniworx ab.
Rooms (lastname)

A-Koc: Theresienstr. 39, B 138
Kor-Z: Theresienstr. 39, B 139

Attention:

Print all lecture slides and bring them with you.
Bring a calculator with you.
Mobile phones, laptops and any other communication technologies are strictly forbidden. Leave them at home.
student id card required
Real (!!) identification document required (e.g. ID card or passport)