Lecture Human Computer Interaction 2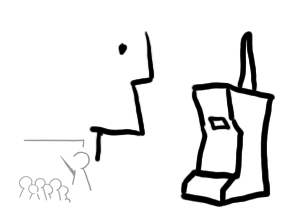 Lecturer:
Prof. Butz
Tutorials:
Julie Wagner
Hours per week:
2 (Lecture) + 2 (Tutorial)
ECTS credits:
6
Module:
WP3: Mensch-Maschine Interaktion 2 (f¸r Master Medieninformatik)
Announcements
[1.10.2013] The registration to exercises is open. Please register in UniWorX.
[8.10.2013] Exercise sessions will take place in the week from october 21st.
[11.10.2013] One of the monday exercise sessions is cancelled. We offer a total of 3 sessions.
[16.10.2013] The exercise session on Tuesday at 6pm is in room 165.
Dates and Locations
Lecture:
Wednesday 10-12, Amalienstraße 73A, 112
Tutorial:
Monday 14-16 Uhr, Geschwister-Scholl-Platz 1, M 201
Monday 16-18 Uhr, Amalienstr. 73A, 101 - Tutor: Sarah Thiel
Tuesday 16-18 Uhr, Öttingenstr. 67, 067 - Tutor: Maraike Stuffler
Tuesday 18-20 Uhr, Öttingenstr. 67, 067 165 - Tutor: Maraike Stuffler

Exam: February 20st, 2014, 11:15 - 12:45 (Theresienstraße 39, Hörsaal B51 und B52)



second exam: April 2nd, 2014, 16:15 - 17:45 (Theresienstraße 39, Hörsaal B51)



Contents
Die Veranstaltung baut auf der vorangehenden Vorlesung "Mensch-Maschine-Interaktion" auf. Hilfreich sind auch Grundkenntnisse in der Programmierung von grafischen Benutzerschnittstellen. Englische Sprachkenntnisse sind erwünscht.
The lecture course is suitable for:
Studierende der Medieninformatik (Diplom, Master) oder Informatik (Diplom, Master), Es wird stark empfohlen, vorher die Vorlesung Mensch-Maschine-Interaktion im Sommersemester zu besuchen.
Diese Lehrveranstaltung kann nur für Master-Studiengänge eingebracht werden. Die Teilnahme ist auch für Bachelor-Studierende prinzipiell möglich (Master-Studierende haben Priorität), allerdings kann die Leistung dann nicht im Bachelor-Studiengang eingebracht werden, sondern kann erst nach einer späteren Immatrikulation in einen Master-Studiengang für diesen eingebracht werden.
All podcast videos can be found here.
Lecture
Date
Subject
Slides
16.10.13
Intro, Organization, Web
mmi2-1-Web.pdf
23.10.13
Guest Lecturer: Alexander Stage from Check 24
mmi2-2-Web-Guest.pdf
30.10.13
Desktop: context, tasks, challenges
mmi2-1-Desktop.pdf
6.11.13
Desktop: input technologies, challenges in interaction design, output technologies
mmi2-2-Desktop.pdf
13.11.13
Desktop: challenges in interaction design, output technologies
mmi2-3-Desktop.pdf
20.11.13
Mobile Technologies: context and tasks
mmi2-4-Mobile.pdf
27.11.13
Mobile Technologies: challenges
mmi2-5-Mobile2.pdf
4.12.13
Mobile Technologies: input
mmi2-6-Mobile3.pdf
11.12.13
Mobile Technologies: interaction & output
mmi2-7-Mobile4.pdf
18.12.13
Christmas lecture, shared with InfoVis class
Please bring cookies! ;-)
25.12.13 - 1.1.14
Free!
enjoy
8.1.14
Interactive Environments: context
mmi2-8-IE.pdf
15.1.14
Interactive Environments: challenges
mmi2-9-IE2.pdf
22.1.14
Interactive Environments: input
mmi2-10-IE3.pdf
29.1.14
Interactive Environments: output & interaction
mmi2-11-IE4.pdf
05.2.14
Michel Beaudouin-Lafon
Title: Instrumental Interaction in Multisurface Environments

Michel Beaudouin-Lafon "Instrumental Interaction in Multisurface Environments"
Today's user interfaces are based on the desktop metaphor and the principles of direct manipulation that were created more than 25 years ago. With the diversity of hardware platforms, contexts of use and types of information that we face today, this paradigm clearly shows its limits. I introduced Instrumental Interaction over ten years ago to address some of these issues. ... read more

slides
20.02.14
Final Exam
good luck
Tutorial
Exam
Date: 20.02.14, 11:15 - 12:45
Deadline for registration: 13.02.14, 18:00
Place:Theresienstraße 39, Hörsaal B51 und B52
Attention:

Closed book exam: lecture/exercise slides and your own notes are NOT allowed. Dictionary and calculator are allowed. All other material (e.g. books) are forbidden.
Mobile phones, laptops and any other communication technologies are strictly forbidden. Leave them at home.
student id card required
Real (!!) identification document required (e.g. ID card or passport)
2nd Exam
Date: 2.04.14, 16:15 - 17:45
Deadline for registration: 31.03.14, 13:00
Place:Theresienstraße 39, Hörsaal B51
Attention:

Closed book exam: lecture/exercise slides and your own notes are NOT allowed. Dictionary and calculator are allowed. All other material (e.g. books) are forbidden.
Mobile phones, laptops and any other communication technologies are strictly forbidden. Leave them at home.
student id card required
Real (!!) identification document required (e.g. ID card or passport)