Multimedia Programming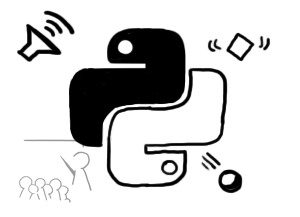 Lecturer: Prof. Butz, Dr. Alexander De Luca
Tutorials: Dr. Alexander De Luca
Hours per week: 2 (Lecture) + 3 (Tutorial)
ECTS credits: 6
Modul: P17 oder P18: Vertiefende Themen der Medieninformatik für Bachelor I oder II (für Bachelor Medieninformatik)
P16 oder P17: Vertiefende Themen der Informatik für Bachelor I oder II (für Bachelor Informatik)
News
   07.11.2013 Die Informationen zur Nachholklausur sind nun online.
   10.06.2013 Die Informationen zur Klausur sind nun online.
   13.05.2013 Nächste Woche entfällt MMP (auch die Übungen) wegen des Feiertags.
   04.05.2013 Update der Skripte von Übung 2.
   28.04.2013 Die Übung am Mittwoch den 1. Mai entfällt.
   15.04.2013 Der Podcast zur ersten Vorlesung ist nun online.
   14.04.2013 Die Folien zur ersten Vorlesung sind nun online.
   14.04.2013 Die Folien, Materialien und das Übungsblatt zur ersten Übung sind nun online.
   13.04.2013 Die Vorlesung in der ersten Woche wird live gehalten.
   13.04.2013 Die Anmeldung zu den Übungen ist nun offen über Uniworx.
Dates and Locations
Lecture: Monday 10-12
Location: HGB Raum B 006
Tutorial:
Monday 12-14 Uhr, Tutor: Hans-Peter Dietz
Tuesday 10-12 Uhr, Tutor: Julia Klose
Wednesday 18-20 Uhr, Tutor: Benjamin Bisinger
Friday 14-16 Uhr, Tutor: Charlotte Prieß
Friday 16-18 Uhr, Tutor: Alexander Klimczak
Location: Amalienstraße 17, CIP-Pool (A 001)
Topic
Die Vorlesung stellt grundlegende Techniken und Programmierschnittstellen zur Entwicklung von Multimedia-Anwendungen für Desktop und Web vor. Behandelt werden Grafik-, Sound-, 3D-, und Multimediaschnittstellen.
Die Übungen werden mit unterschiedlichen Frameworks, Sprachen etc. durchgeführt werden. Darunter z.B. Python und Java FX.
Wichtiger Hinweis: Es wird nur mit Ankündigung Präsenz-Vorlesungen geben. Die übrigen Vorlesungen werden mit Podcasts abgedeckt.
Die Lehrveranstaltung eignet sich für
Studierende Kunst und Multimedia (Pflichtveranstaltung im 4. Fachsemester als Teil des Moduls Multimedia-Praxis)
Studierende Medieninformatik (Bachelor) oder Informatik als "Vertiefendes Thema" (siehe Informationen zu Bachelor Informatik und Medieninformatik)
Studierende der Diplomstudiengänge Medieninformatik oder Informatik im Hauptstudium. Erwartete Vorkenntnisse: Vordiplom in Medieninformatik oder Informatik.
Registration
To participate at the lecture, a registration using Uniworx is required. Everyone can join this lecture.
Lecture
Datum
Thema der Vorlesung
Skript
Audio
15.04.2013
General Topics, Introduction to Python/Pygame
Ch1(a)
Audio1a
22.04.2013
Other Multimedia Development Platforms: Overview
Ch1(b)
Audio1b (techn. Probleme)
29.04.2013
Challenges in Multimedia Programming
Ch2
Audio2
06.05.2013
Programming with Images
Ch3
Audio3
13.05.2013
Programming with Animations, Part 1
Ch4(a)
Audio4a
20.05.2013
entfällt
27.05.2013
Programming with Animations, Part 2
Ch4(b)
Audio4b
03.06.2013
Programming with Sound
Ch5
Audio5
10.06.2013
Programming with Video
Software Engineering Techniques, Part 1
Ch6
Ch7(a)
Audio6
Audio7a
17.06.2013
Software Engineering Techniques, Part 2
Ch7(b)
Audio7b
01.07.2013
Development Process for Multimedia Projects
Ch8
Audio8
Tutorial
Hinweise zur Klausur
Date: Monday, July 15, 2013, 10:00 - 12:00
Deadline for registration: Monday, July 8, 2013, 10:00 am
The registration is possible via Uniworx
Location:
A-G: Hauptgebäude, B 106
H-N: Hauptgebäude, B 006
O-Z: Hauptgebäude, A 120
Melden Sie sich nur zur Klausur an, wenn Sie auch wirklich teilnehmen werden! Nähere Informationen dazu werden folgen. Sollten Sie sich nach Ihrer Anmeldung noch entscheiden, doch nicht teilzunehmen, melden Sie sich bitte wieder via Uniworx ab.
Attention:

Print all lecture slides and bring them with you.
Bring a calculator with you.
Mobile phones, laptops and any other communication technologies are strictly forbidden. Leave them at home.
student id card required
Real (!!) identification document required (e.g. ID card or passport)
Second Exam
Date: Monday, October 07, 2013, 10:00 - 12:00
Deadline for registration: Tuesday, October 01, 2013, 12:00 am
The registration is possible via Uniworx.
Location: Hauptgebäude, M 114
Attention:

Print all lecture slides and bring them with you.
Bring a calculator with you.
Mobile phones, laptops and any other communication technologies are strictly forbidden. Leave them at home.
student id card required
Real (!!) identification document required (e.g. ID card or passport)