Lecture Research on scientific teaching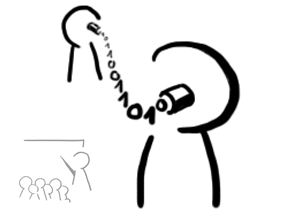 Lecturer: Dr. Daniel Ullrich
Hours per week: 2 seminar + 4 practical course
ECTS credits: 6
Modul: Pflichtmodul P1 (Seminar P 1.1 + Praktikum P 1.2)
Target Group
Studierende der Medieninformatik (Master) oder Informatik (Master). Das Seminar ist Pflichtveranstaltung im Master-Studiengang Medieninformatik und Wahlpflichtveranstaltung im Master-Studiengang Informatik. Es sollte möglichst früh im Studienverlauf besucht werden, da es grundlegende Techniken für das Masterstudium vermittelt. In Ausnahmefällen können auch Informatik-Studenten in der Endphase Ihres Bachelor-Studiums am Seminar teilnehmen.
Registration
Anmeldung zur Veranstaltung:
Uni2Work
This course is organized via uni2work. If you need an account or have trouble signing in please contact the organizers (subject "WAL uni2work-Account").
Contents
Das Seminar "Wissenschaftliches Arbeiten und Lehren" vermittelt Grundlagen des wissenschaftlichen Arbeitens, Publizierens, und Lehrens und bildet die Basis für das gleichnamige Praktikum. Im Fokus der Veranstaltung stehen die Planung und Durchführung von Forschungsvorhaben, Evaluierungs-Techniken und wissenschaftliches Veröffentlichen.
Dates and Locations
Seminar
Date: Tuesdays 18-20 ct

Location: Oettingenstr. 67, 161
Begin: 31.05.2022
Praktikum
Termin: Blockpraktikum in vorlesungsfreier Zeit (AUG/SEP)
Location: n/a
Abschlusspräsentation
Date: 13.09. 10-20

Location: Oettingenstr. 67, 161
---
Seminar
#
Date
Topic
01
31.05.
Intro Seminar & Themenvergabe
02
14.06.
Referate 1 & 2
03
21.06.
Referate 3 & 4
04
28.06.
Referate 5 & 6
05
05.07.
Referate 7 & 8
06
12.07.
Referate 9 & 10
07
19.07.
Referate 11 & 12
08
26.07.
Intro Praktikum & Gruppeneinteilung
---
Practical course
#
Date
Topic
09
AUG/SEP
Projektarbeit
10
13.09.
Abschlussvorträge