Proseminar Media Informatics I and II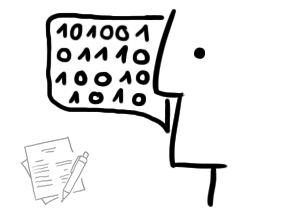 Lecturer Proseminar I: Prof. Dr. Hußmann
Person in charge Proseminar I: Jingyi Li, Francesco Chiossi
Lecturer Proseminar II: Prof.Dr. Mayer
Person in charge Proseminar II: Sebastian Feger
Hours per week: 2
ECTS-Credits: 3
Modul: 14.4: Seminar zur ausgewählten Themen der Informatik (für Bachelor Medieninformatik)
12.1: Seminar zur ausgewählten Themen der Informatik (für Bachelor Informatik)
---
---
Topic
Proseminar I:
AR/VR, Automotive, Passenger Experience, Physiological Computing, and Task Interruption
Proseminar II:
Machine learning, Interaction Technique, Gamification, and (Research) Reproducibility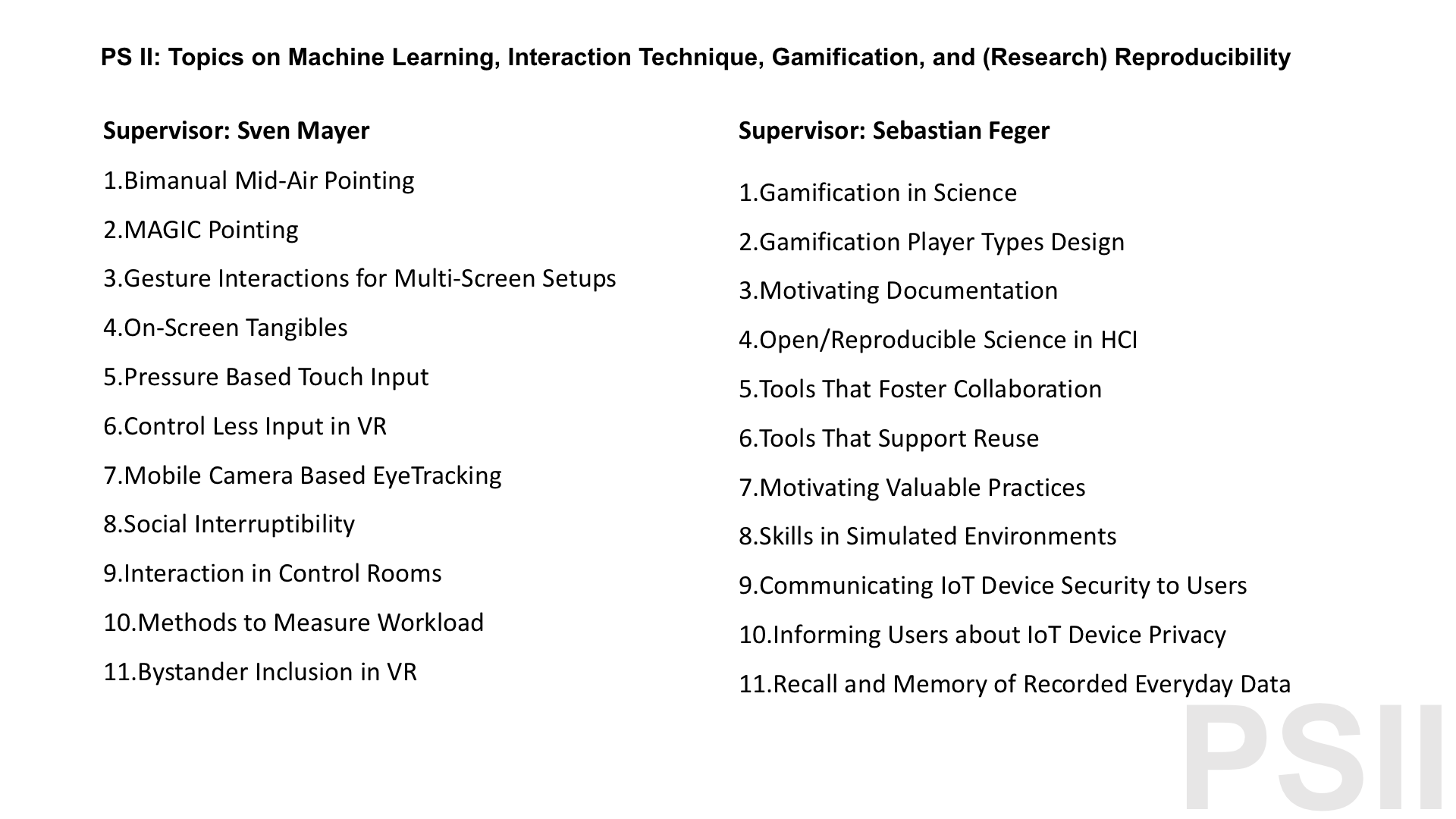 News
14.09.2020:

The course is now on "Zentralanmeldung"".
Interested media informatics Bachelor students please register on "Zentralanmeldung"".
Those who have registered via Uni2work before, please re-register on "Zentralanmeldung"".
Thank you for your understands.

13.10.2020:

The dates for the final presentation are changed to Feb. 18 and 19.


16.10.2020:

To enlarge the course capacity, there will be two Proseminars targeted for 40 Bachelor students in the winter term 20/21.
Next week, there will be more information regarding the difference in topics between the two seminars for the course participants.
Please check Uni2work, email, and this website for further notice.


05.11.2020:

We further enlarged the course capacity to 44 students. Four new topics are added to the topic list.
The zoom link for the kickoff session will be sent out to the participants at the end of today.


11.11.2020:

We updated the kickoff slides, in which you can find the missing link to pitch guidelines.


01.02.2021:

We extended the submission deadline of the final paper and the presentation to February 15.

Time and Location
Time: Fri, 14-16 Uhr s.t.
Location: Zoom
---
Rules for Online Teaching
While LMU is closed, most teaching happens currently online. As teachers, we ask you to be forgiving if things should not work perfectly right away, and we hope for your constructive participation. In this situation, we would also like to explicitly point out some rules, which would be self-evident in real life:
In live meetings, we ask you to responsibly deal with audio (off by default) and bandwidth (video as needed).
Recording or redirecting streams by participants is not allowed.
Distributing content (video, audio, images, PDFs, etc.) in other channels than those foreseen by the author is not allowed.
If you violate one of these rules, you can expect to be expelled from the respective course, and we reserve the right for further action. With all others, we are looking forward to the joint experiment of an "online semester".
---
Presentation Dates
*
Slides for the pitches must be handed in via Uni2Work on the 24th of November.
*
The abstract and outline must be handed in via Uni2Work on the 22nd of January.
**
Final paper and presentation slides must be handed in as pdf (zipped) by the 15th of February.
Contents
During the seminar, students will present the state of research and current developments in sub-areas of human-machine interaction. The aim of the proseminar is to convey and promote the basics of research, documentation and presentation of scientific work.

Attendance is compulsory for all lecture dates.
The lecture course is suitable for:
Media informatics students (Bachelor)