Practical Course Development of Media Systems using iOS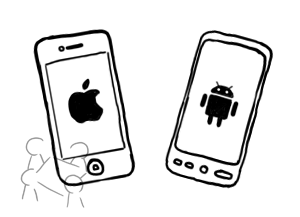 Lecturers: Prof. Hußmann
Person in Charge: Dr. Alexander De Luca, Fabius Steinberger
Hours per week: 4
ECTS-Credits: 6
Modul: P5.0.2 oder P5.0.4: Gruppenpraktikum zu fortgeschrittenen Themen der Informatik I oder Informatik II
Nach Rücksprache mit dem Prüfungsausschuss auch Anerkennung für P2, P3 oder P6 (Vertiefende Themen für Master) möglich
P17, P18: Vertiefende Themen der Medieninformatik I oder II
News
Dates and Locations
Date of Lecture: Wednesday, 16-18

Location: Amalienstraße 17, Raum A 107
Material
Content
Introduction to iOS programming: Objective-C, XCode, Storyboards, user interfaces, sensors, network access, multitouch... (Weekly excercises)
Team project: Ideation, design and implementation of your own app idea. (Regular milestones and presentation at the end of the semester)
Registration
This practical has a maximum of 16 students and requires a registration until September 1st via
Uniworx
. As always, the available spots will be given away using FCFS. The application should contain the following information:
Einbringung für Master oder Bachelor?
Related knowledge (lectures etc.)
Für iOS: Mac vorhanden oder nicht. Wir können dieses Jahr 4 Mac Mini bereitstellen. Unter den Teilnehmern ohne Mac wird dann verlost, wer einen Mac Mini geliehen bekommt.
Splitveranstaltung
Die Veranstaltung findet dieses Semester wieder als Splitveranstaltung statt. Eine Bachelor- und eine Master-Version der Veranstaltung werden gemeinsam gehalten entsprechen aber unterschiedlichen Abschlüssen und Modulen:
Bachelorstudenten: Erhalten im Rahmen der vertiefenden Themen 6 ECTS-Credits. Die Abgabeanforderungen sind in diesem Fall reduziert.
Masterstudenten: Bilden eigene Gruppen und erhalten unter anderen Abschlussbedingungen 6 ECTS-Credits für das Modul "5.0.2 bzw. 5.0.4: Gruppenpraktikum zu den fortgeschrittenen Themen der Informatik".
Diplomstudenten: Keine Teilnahme möglich.
Requirements
Basic knowledge in HCI (e.g. lectures MMI1 and MMI2) desirable
Credit Conditions
Successful submission of all excercises.
Attending all meetings.
Successful finalization of the project.