Study Group Digital Photography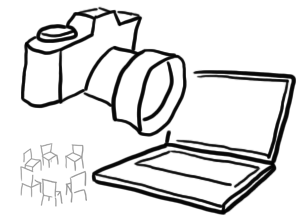 Lecturer:
Prof. Hußmann
Person in Charge:
Henri Palleis
Hours per week:
2
ECTS credits:
none
Module:
not assigned to a module
News
Dates and Locations
Friday 14-16, Amalienstr. 17 A107
Contents
Der Arbeitskreis Digitalfotografie trifft sich einmal wöchentlich und befasst sich mit verschiedenen Aspekten rund um die digitale Fotografie. Dabei bereiten die Teilnehmer reihum jeweils ein bestimmtes Thema vor, und präsentieren dies dem Arbeitskreis in einem kurzen Vortrag mit anschließender Diskussion oder praktischer Anwendung. Themen sollen einerseits die gestaltende Fotografie sein, andererseits aber auch Techniken im Zusammenhang mit digitalen Bildern und ihrer Verarbeitung. Für diese Lehrveranstaltung gibt es keinen Schein / keine ECTS-Punkte.
The lecture course is suitable for:
all students that are interested
Themenideen & -wünsche
Mögliche Themen:
Porträtfotografie
Blitzlicht
Bewegungsunschärfe
Fotografieren bei Nacht
Schwarz-/Weiß-Fotografie
High-Speed-Fotografie
Raw-Processing
Architektur-Fotografie
HDR, Panoramas, Filter
Exkursionen
... und viele, viele mehr.
Registration
Just attend the first meeting.
Termine