Disputationsseminar Bachelor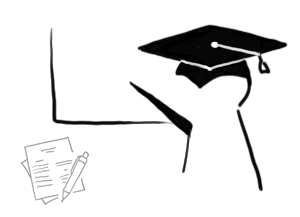 Lecturers: Prof. Hußmann
Person in Charge: Daniel Buschek
Hours per week: 2
ECTS credits: 3 (Disputation Bachelor Thesis)
Module: P19.2
Dates and Locations
Date: Thursday, 2-4 p.m.
Location: Amalienstraße 17, Room A 107
Contents
Im Rahmen des Disputationsseminars halten Bachelorstudenten den Abschlussvortrag zu ihrer Bachelorarbeiten. Alle interessierten Studierenden sind herzlich eingeladen, das Disputationsseminar zu besuchen! Insbesondere ist ein regelmäßiger Besuch für diejenigen zu empfehlen, die selbst dabei sind, ihre Bachelorarbeit zu bearbeiten.
Termine und Vorträge
Do 14.04.2016

Maurice Rang


Bastian Pfleging

[Bachelor] Non-driving related activities during highly automated driving
15+10 Min.
Daniel Sasjadvolk

[Bachelor] Mobile payment in enclosed groups
15+10 Min.
Xiao Di


Vincent Aravantinos (Fortiss)

[Bachelor] How could information and communication technologies support citizens in the smart cities and communities of future
15+10 Min.
frei: 15 Min

Do 21.04.2016

Marco Nachtigal

[Bachelor] Nutzer-Toleranz bzgl. der Ladezeit von Webseiten und deren Einflussfaktoren
15+10 Min.
Katrin Schauer

[Bachelor] Einfluss von Geschlecht und Perso?nlichkeit auf die Bewertung interaktiver Visualisierungskonzepte perso?nlicher Daten
15+10 Min.
Julian Schnaars

[Bachelor] Exploring Emoji inside Text-Based Passwords
15+10 Min.
frei: 15 Min

Do 28.04.2016 (ohne Prof. Alt)

Tim Ordenewitz

[Bachelor] Exploring pressure-sensitive touch-gestures and their impact in project-management apps
15+10 Min.
frei: 65 Min

Do 19.05.2016 Überlauftermin (entfällt voraussichtlich)

frei: 90 Min

Do 09.06.2016

Oliver Duerr

[Bachelor] Supporting Eldery People In Using Mobile Phones
15+10 Min.
Stefanie Meitner

[Bachelor] Der Effekt von Passwort-Generatoren auf die Selektion von Passwörtern
15+10 Min.
Carola Meier

[Master (Antritt)] TBA
10+10 Min.
Florian Fincke


Florian Lachner

[Bachelor] Webapplikation basierend auf dem User-Tracking von Nutzern aus verschiedenen Kulturen
15+10 Min.
überzogen: 5 Min

Do 23.06.2016

Susanne Friedl

[Bachelor] Investigating engagement and interruptions in software development using EEG data and task logging
15+10 Min.
Elisaveta Karypidou


Christoph Draxler

[Bachelor] Visualisierung von Reiseblogs
15+10 Min.
Susanne Böhmer


Christoph Draxler

[Bachelor] App zur unterstützenden Therapie der Legasthenie
15+10 Min.
Andreas Deml

[Bachelor] Ein Design Pattern für komplexe Listen und Tabellen
15+10 Min.
überzogen: 10 Min

Do 30.06.2016

Christian Valenta

[Bachelor] Präzision der Hand-Augenkoordination bei der Nutzung einer Oculus Rift nach Kalibrierung aller Freiheitsgrade
15+10 Min.
Christian Guerrero

[Master (Antritt)] Investigating Gaze Interaction for Navigation Tasks Using Orthogonal 2D and 3D Views
10+10 Min.
frei: 45 Min

Do 07.07.2016

Dominik Slezak

[Master (Antritt)] Explorative data analysis and visualization of large-scale fitness data
10+10 Min.
Raphael Kösters


Daniel Buschek

[Master (Abschluss)] Exploring Resting States of Mobile Devices
20+15 Min.
Lukas Antesberger


Christoph Draxler

[Bachelor] Online-Spiel zur Transkription von Sprachdaten
15+10 Min.
frei: 10 Min

Do 14.07.2016

Calvin Hoenes


Daniel Buschek

[Bachelor] Predicting Hand Posture from Zoom and Rotation Gestures
15+10 Min.
Nora Unterbruner

[Bachelor] Exploring the perceptions and consequences of foodporn
15+10 Min.
Cedric Quintes


Daniel Buschek

[Bachelor] Adapting Mobile Touch Interfaces to Varying Contexts and Levels of Attention
15+10 Min.
Philipp Hauptmann


Malin Eiband

[Master (Antritt)] Protecting Sensitive Data On Mobile Devices With Handwritten Fonts
10+10 Min.
Alexander Holzer


Alexander Wiethoff

[Bachelor] Tactile Feedback In Indoor Media Notification Systems
15+10 Min.
überzogen: 30 Min
Hinweis: Falls Sie Ihren Termin hier nicht finden, wählen Sie oben rechts auf dieser Seite das nächste Semester an.