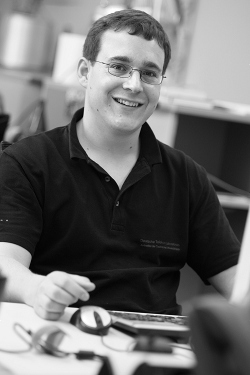 Sven Kratz
Research Assistant, PhD Student
Mail
sven.kratz ät ifi.lmu.de
Phone
+49-89/2180-4619
Fax
+49-89/2180-4652
Address
Sven Kratz
Universität München, LFE Medieninformatik
Amalienstr. 17
80333 München
Germany
Room
A206 (2nd floor)
---
Since October 2012, Sven is a research scientist at
FX Palo Alto Laboratory, USA
.
Sven Kratz was an assistant at the Mobile Interaction Lab of the Department for Informatics of the University of Munich (LMU), Germany, where he obtained his PhD in Computer Science in 2012. From 2008–2011, Sven worked as a researcher and PhD student for
Deutsche Telekom Laboratories
at the
Berlin University of Technology (TU Berlin)
. Sven completed a 16 week internship in 2010 as well as a 12 week internship in 2011 at the
Microsoft Applied Sciences Group
in Redmond, WA, USA, where he helped to develop new user interface hardware, experimented with mobile robots and was software developer on the Mayhem team.
Sven's primary research focus is on sensor-based mobile interfaces that allow for novel types of interaction. This includes gesture recognition, interaction based on distance sensing and pressure, and around-device interaction. Sven also conducts research tabletop applications for mobile devices and associated tracking technologies. Sven received his Diplom degree in Computer Science from
RWTH Aachen University
in 2007.
In his free time, Sven enjoys playing tennis, sailing and hiking.
---
Professional Services
Projects
PalmSpace
What if mobile phones were equipped with depth imaging cameras? PalmSpace envisions the use of such cameras to facilitate interaction with 3D content using hand gestures. We developed a technique that maps the pose of the user's palm directly to 3D object rotation. Our user study shows that the users could manipulate the 3D objects significantly faster than with a standard virtual trackball on the touch screen. To appear at Advanced Visual Interfaces (AVI) 2012, Capri Island, Italy, May 21-25, 2012.
CapWidgets
The CapWidgets project is an exploration of tangible widgets on mobile devices with capacitive touch screens. Presented as a work-in-progress at CHI 2011 in Vancouver, BC, Canada.
Protractor3D
Protractor3D is a tilt-invariant gesture recognizer for 3D motion gestures from data which can be obtained, for example, from 3D accelerometers on smart phones.
Our public evaluation version has been released as a Python module und GPL v3. We intend to release versions of Protractor3D for iPhone and Android in the near future.
Supervised Diplom / Master's / Bachelor's Thesis / Study Projects
Publications
2012
Sven Kratz, Michael Rohs, Felix Reitberger, Jörg Moldenhauer
Attjector: an Attention-Following Mobile Projector
Kinect Workshop at Pervasive 2012 (bib)



Download

Sven Kratz, Dennis Guse, Michael Rohs, Jörg Müller, Gilles Bailly, Michael Nischt
PalmSpace: Continuous Around-Device Gestures vs. Multitouch for 3D Rotation Tasks on Mobile Devices
Advanced Visual Interfaces, International Working Conferencein cooperation with ACM-SIGCHI, ACM-SIGMM, SIGCHI Italy, Capri Island (Naples), Italy May 21-25, 2012 (bib)
Gilles Bailly, Jörg Müller, Michael Rohs, Daniel Wigdor, Sven Kratz
ShoeSense: A New Perspective on Gestural Interaction and Wearable Applications
Accepted for CHI 2012 (bib)
2011
Qian Qin, Michael Rohs, Sven Kratz
Dynamic ambient lighting for mobile devices
UIST '11 Adjunct Proceedings of the 24th annual ACM symposium adjunct on User interface software and technology (bib)
Christine Kuehnel, Tilo Westermann, Fabian Hemmert, Sven Kratz, Alexander Müller, Sebastian Moeller
I'm home: Defining and evaluating a gesture set for smart-home control
International Journal of Human-Computer Studies, 693-704 (bib)
Dennis Guse, Niklas Kirschnick, Sven Kratz, Sebastian Moeller
Gesture-based User Authentication for Mobile Devices
Workshop on Body, Movement, Gesture and Tactility in Interaction with Mobile Devices at MobileHCI 2011 (bib)



Download

Doris Hausen, Bettina Conradi, Alina Hang, Fabian Hennecke, Sven Kratz, Sebastian Loehmann, Hendrik Richter, Andreas Butz, Heinrich Hussmann
Ubiquitous Computing
Media Informatics Advanced Seminar, Summer Term 2011 (bib)
Niklas Kirschnick, Sven Kratz, Sebastian Moeller
Poster: Usability of Gesture-based Authentication
2011 Symposium On Usable Privacy and Security (SOUPS 2011) (bib)
Sven Kratz, Tilo Westermann, Michael Rohs, Georg Essl
CapWidgets: Tangible Widgets versus Multi-Touch Controls on Mobile Devices
Work in Progress, CHI 2011, Vancouver, Canada, May 7-12, 2011. (bib)
Alireza Sahami, Michael Rohs, Robert Schleicher, Sven Kratz, Alexander Müller, Albrecht Schmidt
Real-Time Nonverbal Opinion Sharing through Mobile Phones during Sports Events
Proceedings of CHI 2011, Vancouver, Canada, May 7-12, 2011. Note. (bib)



Download

Sven Kratz, Michael Rohs
Protractor3D: A Closed-Form Solution to Rotation-Invariant 3D Gestures
Proceedings of the International Conference on Intelligent User Interfaces (IUI 2011), Palo Alto, CA, USA, February 13-16, 2011. Short paper. (bib)



Download

Sven Kratz, Michael Rohs
Protractor3D: A Closed-Form Solution to Rotation-Invariant 3D Gestures
Proceedings of the International Conference on Intelligent User Interfaces (IUI 2011), Palo Alto, CA, USA, February 13-16, 2011. Short paper. (bib)
2010



Download

Michael Rohs, Sven Kratz, Robert Schleicher, Alireza Sahami, Albrecht Schmidt
WorldCupinion: Experiences with an Android App for Real-Time Opinion Sharing during World Cup Soccer Games
Research in the Large: Using App Stores, Markets and other wide distribution channels in UbiComp research. Workshop at Ubicomp 2010, Copenhagen, Denmark, September 26, 2010. (bib)



Download

Benjamin Bähr, Sven Kratz, Michael Rohs
A Tabletop System for supporting Paper Prototyping of Mobile Interfaces
PaperComp 2010: 1st International Workshop on Paper Computing. Workshop at Ubicomp 2010, Copenhagen, Denmark, September 26, 2010. (bib)



Download

Sven Kratz, Ivo Brodien, Michael Rohs
Semi-Automatic Zooming for Mobile Map Navigation
Proceedings of the 11th International Conference on Human Computer Interaction with Mobile Devices and Services (MobileHCI 2010), Lisboa, Portugal, September 7-10, 2010. (bib)



Download

Georg Essl, Michael Rohs, Sven Kratz
Use the Force (or something) - Pressure and Pressure-Like Input for Mobile Music Performance
Proceedings of the International Conference on New Interfaces for Musical Expression (NIME 2010), Sydney, Australia, June 15-18 2010. Short paper. (bib)



Download

Craig Stewart, Michael Rohs, Georg Essl, Sven Kratz
Characteristics of Pressure-Based Input for Mobile Devices
Proceedings of the ACM Conference on Human Factors in Computing Systems (CHI 2010), Atlanta, Georgia, USA, April 10-15, 2010. Full paper. (bib)



Download

Sven Kratz, Fabian Hemmert, Michael Rohs
Natural User Interfaces in Mobile Phone Interaction
Workshop on Natural User Interfaces at CHI 2010, Atlanta, Georgia, USA, April 10, 2010. (bib)



Download

Sven Kratz, Michael Rohs
Extending the Virtual Trackball Metaphor to Rear Touch Input
Proceedings of the IEEE Symposium on 3D User Interfaces (3DUI 2010), Waltham, Massachusetts, USA, March 20-21, 2010. Tech note. (bib)



Download

Sven Kratz, Michael Rohs
$3 Gesture Recognizer: Simple Gesture Recognition for Devices Equipped with 3D Acceleration Sensors
Proceedings of the International Conference on Intelligent User Interfaces (IUI 2010), Hong Kong, China, February 7-10, 2010. Short paper. (bib)
2009



Download

Georg Essl, Michael Rohs, Sven Kratz
Squeezing the Sandwich: A Mobile Pressure-Sensitive Two-Sided Multi-Touch Prototype
Demonstration at the 22nd Annual ACM Symposium on User Interface Software and Technology (UIST), Victoria, BC, Canada. (bib)



Download

Sven Kratz, Michael Rohs
HoverFlow: Expanding the Design Space of Around-Device Interaction
10th International Conference on Human Computer Interaction with Mobile Devices and Services (MobileHCI), Bonn, Germany, September 15-18, 2009. Full paper. (bib)
Chris Kray, Michael Rohs, Jonathan Hook, Sven Kratz
Bridging the Gap between the Kodak and the Flickr Generations: A Novel Interaction Technique for Collocated Photo Sharing
International Journal on Human-Computer Studies (IJHCS), September 2009. (bib)
Johannes Schöning, Michael Rohs, Sven Kratz, Markus Löchtefeld, Antonio Krüger
Map Torchlight: A Mobile Augmented Reality Camera Projector Unit
CHI 2009, Work in Progress, pp. 3841-3846, Bosten, MA, USA, April, 4-9, 2009. (bib)



Download

Sven Kratz, Michael Rohs
Unobtrusive Tabletops: Linking Personal Devices with Regular Tables
Workshop on Multitouch and Surface Computing at CHI '09, Boston, MA, USA, April 4, 2009. (bib)
2008



Download

Chris Kray, Michael Rohs, Jonathan Hook, Sven Kratz
Group Coordination and Negotiation through Spatial Proximity Regions around Mobile Devices on Augmented Tabletops
3rd IEEE Workshop on Tabletops and Interactive Surfaces (IEEE Tabletop 2008) (bib)



Download

Sven Kratz, Michael Rohs
Navigating Dynamically-Generated High Quality Maps on Tilt-Sensing Mobile Devices
Workshop on Mobile and Embedded Interactive Systems (MEIS at Informatik 2008), Munich, Germany, September 11, 2008 (bib)
---