Study Group Hardware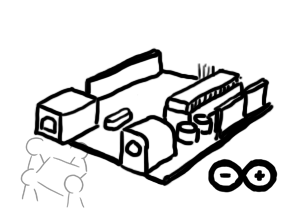 Lecturers: Prof. Rohs
Person in Charge: Sven Kratz
Hours per week: 2
ECTS-Credits: Keine!
Module: not assigned to a module
News
Hinweis: Alle Angaben sind vorläufig und können sich noch ändern.
Dates and Locations
Date: Monday 18-20
Location: Amalienstraße 17, Room A105
Registration
Die Anzahl der Plätze ist begrenzt. Falls Sie Interesse an diesem Arbeitskreis haben, melden Sie sich bitte per Email bei Michael Rohs mit folgenden Informationen an:
Name
Studiengang
Semester
Vorkenntnisse
Termine und Unterlagen
Date
Topic (preliminary)
Slides
Project
2.5.
Introduction to embedded interaction, microcontrollers, hardware & software tools
Slides
9.5.
keine Veranstaltung (CHI)
16.5.
Soldering ISP adapter, AVR architecture
Slides
23.5.
LED displays, LED multiplexing, transistors, electronics basics
Slides
30.5.
AVR analog-digital-converter, sensors, op-amps
Slides
6.6.
PCB design & fabrication, EAGLE, 3D printing, OpenSCAD; electronics basics, brainstorming
Slides, more Slides
13.6.
keine Veranstaltung (Pfingsten)
20.6.
Actuation (stepper motors, servo motors), I2C: interfacing to other chips (EEPROM, real-time clock, digital sensors)
Slides
27.6.
USB to serial chips, storage on memory cards, capacitive sensors
Slides
7.7.
Project start
Slides
11.7.
OpenSCAD tutorial
servo.scad, measurements.scad
18.7.
Displays (character LCDs, graphics LCDs), audio (speakers, amplification, op-amps)
25.7.
Communication: fixed-frequency RF, ZigBee, Bluetooth
Contents
Der Arbeitskreis Hardware beschäftigt sich mit der Entwicklung von Mikrocontroller-basierten interaktiven Systemen. Beispiele sind smarte Objekte, die Berührung, Bewegung oder Druck messen können; kapazitiven Multi-Touchpads; kombinierte Lichtwecker-MP3-Player; drahtlose Sensorknoten zur Erfassung von Messwerten; oder Mini-Service-Roboter. "Tangible user interfaces" und "smart artifacts" verwenden kleinste eingebettete Hardware-Komponenten. Im Arbeitskreis werden Grundlagen der Elektrotechnik, AVR-Mikrocontroller, I2C-Bus, OpAmps, Reflow-SMD-Löten, Sensoren und Aktuatoren besprochen. In den Sessions wird in der ersten Hälfte jeweils ein neues Thema vorgestellt und danach kleinere Projekte bearbeitet. Erfahrungen in Elektronik-basteln, wie z.B. aus "Sketching with Hardware", sind hilfreich, aber keine Voraussetzung. Wir erwarten keinen substanziellen Zeitaufwand für die Teilnehmer außerhalb der Veranstaltung selbst. Für diese Lehrveranstaltung gibt es keinen Schein / keine ECTS-Punkte.
Material
We will provide the necessary hardware components for the duration of the semester.
Literature
Folgende Literatur ist hilfreich für den Kurs. Die Anschaffung ist jedoch nicht zwingend erforderlich zur Teilnahme.