Course Drawing and Sketching of Scenarios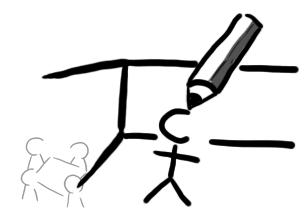 Lecturer:
Camill von Egloffstein
Hours per week:
3
ECTS credits:
3
Module:
WP 18.1
News
12.11.2019:

This year's ZSK course will take place from February 2nd - 6th. Registration is now open via Uni2Work (see below).

10.10.2019:

This year's course will take place in the lecture free time after wintersemester. Dates and place as well as application procedure will be announced shortly.
Dates and Locations
Date: March 2nd - 6th 2020, 9am - 6pm (c.t.)
Location: Ort: Leopoldstrasse 13, Raum 1502
Material
Bring following material to the course:
Sketchbook (e.g. textbook DIN-A-4 - without ruling or checked - or notebook)
Pens up to you (e.g. ballpoint, gel ink, fineliner, marker)
For practicing: sketch block DIN-A-4 (sketching quality), pencil, sharpener
Contents
This course covers the skechting of people and objects in different spatial situations executing different activities. The goal is to be able to quickly draw visual appealing usage scenarios for interactives systems.
The lecture course is suitable for:
Students in the third semester of Media Informatics with minor subject "Human-Computer-Interaction"
with Psychology exam passed
Registration
The registration is now open via Uni2Work. You can register and deregister until February 16th.