Media innovation from social media to virtual worlds and webvideo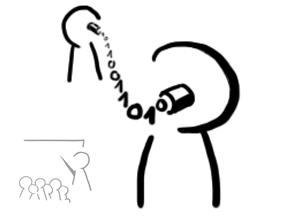 Lecturer:
Markus Kaiser
Tutorials:
Axel Hösl
Hours per week:
3
ECTS credits:
3
Dates and Locations
Dates: Friday 9am - 12pm
Ort: Leopoldstraße 13, Raum 1401
Contents
Live-Streaming, Virtual Reality, 360 Grad, Webvideos & Chat-Bots: Aufgrund der Digitalisierung haben sich die Medien, das Storytelling und die Mediennutzung stark verändert. In diesem Seminar werden Medieninnovationen aus Content-Sicht betrachtet. Schwerpunkte sind Social Media, virtuelle Welten und Webvideos. Es wird reflektiert, was Medieninnovationen für die Strukturen von Medienunternehmen bedeuten, wie neue Medien vom Rezipienten genutzt werden und welche neuen Regeln sich im Journalismus und in der Öffentlichkeitsarbeit herausgebildet haben. Im Mittelpunkt des Seminars stehen verschiedene praktische Übungen.
Termine
Die Veranstaltung findet nur an folgenden Terminen statt:
5. Mai
12. Mai
2. Juni
16. Juni
23. Juni
Zusätzlich wird eine Exkursion stattfinden, der Termin wird gemeinsam vereinbart
The lecture course is suitable for:
Students of Media Informatics (bachelor)
Students of "art and multimedia"
The lecture course is only suitable as "Vertiefendes Thema" for Medieninformatik (Bachelor) students - not Informatik students.