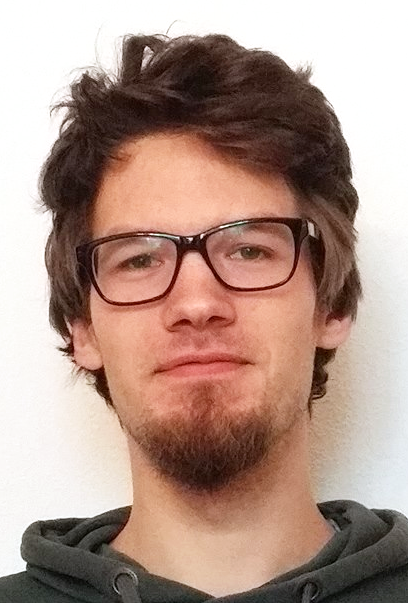 Lukas Mecke
E-Mail
lukas.mecke ät ifi.lmu.de
Address
Lukas Mecke
Universität der Bundeswehr Munich
Carl-Wery-Str. 20
Munich, Germany
Room
2723
Research Interests
In my research I focus on behavioural biometrics and their use in HCI. In particular one part of my work is adapting interfaces to user behaviour and build usable security concepts using biometrics.
I also do side projects in machine learning, computer vision and eye tracking.
Biometrics++
I am part of the research group Biometrics++ headed by Prof. Dr. Florian Alt and located at the University of Applied Sciences Munich.
The research group explores novel interfaces based on behavioral biometrics. Today, sensors in our personal devices as well as in our environment allow users' behavior to be analyzed in detail and this knowledge to be leveraged in different application areas. These include but are not limited to secure and usable authentication as well as adaptive user interfaces. The research group lays the conceptual and technical foundations and investigates the users' view toward such novel interfaces.
Theses (Bachelor/Master)
If you are interested in writing your thesis in my research area feel free to contact me.
Open
TBA
---
In Progress
Finished
---
Publications
2019



Download

Lukas Mecke, Daniel Buschek, Mathias Kiermeier, Sarah Prange, Florian Alt
Exploring Intentional Behaviour Modifications for Password Typing on Mobile Touchscreen Devices
In SOUPS 2019: Fifteenth Symposium on Usable Privacy and Security, Santa Clara, CA, USA, August 11 - 13, 2019. USENIX Association. (bib)



Download

Lukas Mecke, Sarah Delgado Rodriguez, Daniel Buschek, Sarah Prange, Florian Alt
Communicating Device Confidence Level and Upcoming Re-Authentications in Continuous Authentication Systems on Mobile Devices
In SOUPS 2019: Fifteenth Symposium on Usable Privacy and Security, Santa Clara, CA, USA, August 11 - 13, 2019. USENIX Association. (bib)



Download

Sarah Prange, Daniel Buschek, Ken Pfeuffer, Lukas Mecke, Peter Ehrich, Jens Le, Florian Alt
Go for GOLD: Investigating User Behaviour in Goal-Oriented Tasks
In CHI '19: Extended Abstracts of the 2019 CHI Conference on Human Factors in Computing Systems (bib)



Download

Ken Pfeuffer, Matthias Geiger, Sarah Prange, Lukas Mecke, Daniel Buschek, Florian Alt
Behavioural Biometrics in VR - Identifying People from Body Motion and Relations in Virtual Reality
In CHI '19: Proceedings of the SIGCHI Conference on Human Factors in Computing Systems. Glasgow, Uk, May 4 - 9, 2019. ACM, New York, NY, USA. (bib)
2018



Download

Lukas Mecke, Ken Pfeuffer, Sarah Prange, Florian Alt
"Open Sesame!": User Perception of Physical, Biometric, and Behavioural Authentication Concepts to Open Doors
In MUM '18: Proceedings of the 17th International Conference on Mobile and Ubiquitous Multimedia (bib)



Download

Daniel Buschek, Sarah Theres Völkel, Clemens Stachl, Lukas Mecke, Sarah Prange, Ken Pfeuffer
Experience Sampling as Information Transmission: Perspective and Implications
In Ubicomp '18 workshop: Mobile Human Contributions: Opportunities and Challenges. Singapore, October 8, 2018. (bib)



Download

Ville Mäkelä, Mohamed Khamis, Lukas Mecke, Jobin James, Markku Turunen, Florian Alt
Pocket Transfers: Interaction Techniques for Transferring Content from Situated Displays to Mobile Devices
In CHI '18: Proceedings of the SIGCHI Conference on Human Factors in Computing Systems. Montreal, QC, Canada, April 21 - 26, 2018. ACM, New York, NY, USA. (bib)



Download

Lukas Mecke, Sarah Prange, Daniel Buschek, Florian Alt
A Design Space for Security Indicators for Behavioural Biometrics on Mobile Touchscreen Devices
In CHI '18 Extended Abstracts on Human Factors in Computing Systems (bib)
2016



Download

Florian Alt, Andreas Bulling, Lukas Mecke, Daniel Buschek
Attention, please! Comparing Features for Measuring Audience Attention Towards Pervasive Displays
In DIS '16: Proceedings of the ACM SIGCHI Conference on Designing Interactive Systems. Brisbane, Australia, June 4 - 8, 2016. ACM, New York, NY, USA. (bib)