Study Group Digital Photography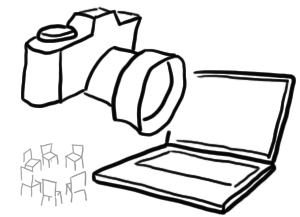 Lecturer:
Prof. Hussmann
Person in Charge:
Kai Holländer
,
Fiona Draxler
,
Heiko Drewes
Hours per week:
2
ECTS credits:
none
Module:
not assigned to a module
News
Announcement:

Due to the small number of participants, the Digital Photography Working Group will be discontinued for this semester.

Notifications:

The Workshop will start in the 2nd week of the semster, on Tuesday the 30th of April 2019

Dates and Locations

Dates: Tuesdays from 5 until 7 pm s.t.
Location: Frauenlobstr. 7a, 3. floor room 357

Contents

The Digital Photography Working Group meets once a week and deals with various aspects of digital photography. In turn, the participants prepare a specific topic and present it to the working group in a short lecture with subsequent discussion or practical application. The Study Group should provide a structured framework for this, which the course participants can design themselves. Topics should be creative photography on the one hand, but also techniques in connection with digital images and their processing on the other hand. There will be no ECTS credits for this course.

The lecture course is suitable for:
Registration
Just come to the first course and sign up.